Charlie Program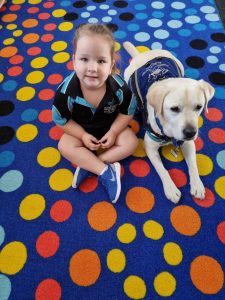 Charlie is a well-known member of MPS and the wider community, and you can often hear his name being echoed with joy throughout the school. Charlie, Education Assistant Dog, is supported by his trainer Jodie Toy and Special Needs Education Assistant, Kristy Fissioli. With the team involved we have been able to implement a variety of programs that are individually tailored to each student, which has enabled the team to be able to support their social-emotional needs in a high care environment.
The Charlie Program has been successfully implemented at Mandurah Primary School since 2018 and won a state-wide Bendigo Bank award for 'Best  community Program'. The program compliments Mandurah Primary School's vision of "We are a learning community committed to the continuous support and improvement of all students in a high care-high achievement environment which celebrates and embraces our diversity."
 We are very proud of the program's achievements, and are committed to seeing this program continue into the future.